Pure Bred Asian Leopard Cat
"A foundation cat of the Bengal breed"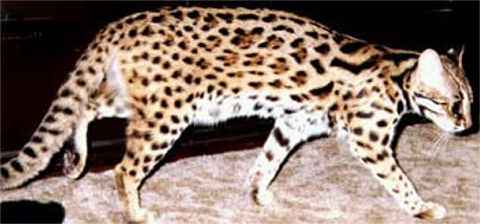 Queen Asianna of Bamboo (ALC)

Asianna, aka Cha Chi or Chiquita was our first female ALC and is a proven female. She is the ONLY female Leopard Cat who has successfully produced two litters of domestic Bengal cats. She is an amazing rosetted cat with a very clear coat, and wonderful white belly. She comes from imported bloodlines from Germany and had been bottled raised and raised in a house with Bengal cats. Before coming to Bamboo she had produced some of the most beautiful F1 domestic Bengals ever that have now been bred down to the 4th generation (SBT). She is IPEBA and TICA Registered. Asianna uses a litter box faithfully and is non-agressive in anyway. We believe the selection of the Leopard Cats qualities are as important as the Bengals bred to them. We are planning to breed her to one of our Bengal studs this year in hopes of extending the world record for a Female Leopard Cat producing three litters domestic Bengals.

Sorry, female kittens from Asianna will not be offered for sale.




Asianna


Asianna


Asianna


Asianna


Asianna
fall 2005


Asianna
fall 2005


F1 Bengal Legacy
(daughter of Asianna)

F1 Bengal Prophecy
(daughter of Asianna)
Photos copyrighted © by Sandra Roan and Bamboo Cattery and
may not be copied, reproduced or reprinted without written authorization.




| | |
| --- | --- |
| HOME | ALCs |
All documents, photographs and graphics are Copyright © 2002-2005