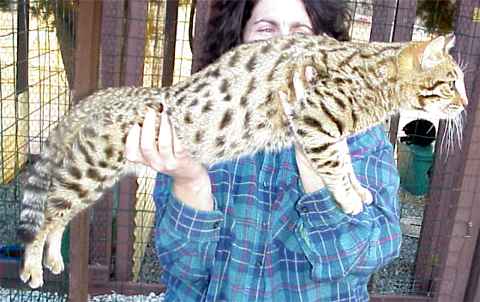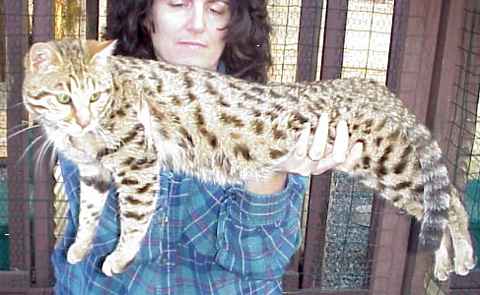 Bamboo King Leonardo F3
Sire: Bamboo King Samson SBT
Dam: Uniquely Just A Peach of Bamboo F2

As you can see, Leo is very golden clear coated, rosetted, with white face markings, thick tail, spotting down his legs, outstanding profile, and small oceli rounded ears. He is so nice and sweet. We are breeding him to several females in high hopes that he is fertile.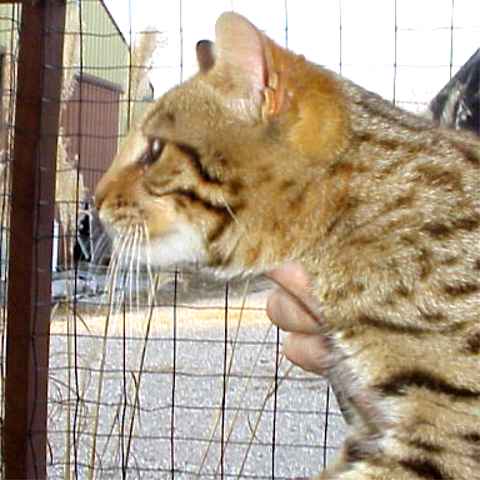 Text Pedigree for Bamboo King Leonardo (COP 040800)
+--- Millwood Rave Review(C3T063087009*)
+--- Millwood Show Biz(O3T080688012)
| +--- Millwood Sundapple(B2T051886014)
+--- Nefertelli Firestone of Gogees(C0T012790003*)
| | +--- Millwood Trademark(A2T052784015*)
| +--- Bengaline Athena(B2T051388007)
| +--- Millwood Sheba of Bengaline(A3T022887005*)
+--- The Juice of Bamboo(SBT092095003)
| | +--- Oakview Cheech of Gogees(BOT030590007)
| | +--- I've Been Spotted(COT091191014)
| | | +--- Glamourcats Bet Za Be(SBT080290009)
| +--- Glamourcats Rose Medallion of Bamboo(SBT102592004)
| | +--- Millwood Rave Review(C3T063087009*)
| +--- Millwood Golden Sheena(SBT092889001)
| +--- Millwood Cheetah(B3T061887011*)
+--- Bamboo King Samson(SBT102097030)
| | +---
| | +--- Oakview Cheech of Gogees(BOT030590007)
| | | +---
| | +--- I've Been Spotted(COT091191014)
| | | | +--- Millwood Rave Review(C3T063087009*)
| | | +--- Glamourcats Bet Za Be(SBT080290009)
| | | +--- Snowbear Chinese Checker(C3T062089014)
| +--- Glamourcats Rose Medallion of Bamboo(SBT102592004)
| | +--- Millwood Aries(B2T051886010*)
| | +--- Millwood Rave Review(C3T063087009*)
| | +--- Millwood Treasure Chest(B2T040186013*)
| +--- Millwood Golden Sheena(SBT092889001)
| | +--- Millwood Aries(B2T051886010*)
| +--- Millwood Cheetah(B3T061887011*)
| +--- Millwood Spotland Yard(A3T081586010*)
Bamboo King Leonardo(COP 040800)
| +--- SGRC Gogees Intrepid of Movados(SBT070790005)
| +--- CH Movados Rock n Roll of Forestrun(SBT012092016)
| | +--- Nefertelli Firebrand of Movados(C0T012790005*)
| +--- CH Forestrun Amzirak Arcong of Forestrun(SBT070493014)
| | +--- Millwood Sabu of Bradot(C3T031488005*)
| | +--- Bradot Sheba(SBT062990020*)
| | +--- Millwood Indira of Bradot(C3T080688001*)
| +--- CH Forestrun Bankonit of Uniquely(SBT082794008*)
| | | +--- Millwood Rajin Cajun of Gogees(COT041587012)
| | | +--- SGRC Gogees Intrepid of Movados(SBT070790005)
| | | | +--- Gogees Jungle Aura(C0T071189023*)
| | +--- Movados Kenya of Forestrun(SBT030892015)
| | | +--- Millwood Simba(C0T041387012*)
| | +--- Millwood Delya of Movados(C3T032789015)
| | +--- Millwood Coin Drop(B2T050987002*)
+--- Uniquely Just A Peach of Bamboo(B2T020997010)
| +---
| +--- AlC
| | +---
| +--- Wild Huntsman of Spotoluck(O0T032293019)
| | | +---
| | +--- AlC
| | +---
+--- Spotoluck Nutmegnspice of Uniquely(A1T111194001)
| +--- Millwood Destiny(A2T122783006*)
| +--- Millwood Kings Ransom(B3T051388034)
| | +--- Millwood Torchbearer(O3T040186012)
+--- Snowbear Rasha of SpotOLuck(C0T042290004)
| +--- Millwood Art Nouveau(B3T060187026*)
+--- Millwood Painted Lady(C0T061988020*)
+--- Millwood Painted Desert(C3T082987001*)

| | |
| --- | --- |
| HOME | STUDS |
All documents, photographs and graphics are Copyright © 1998-2001