Pure Bred Asian Leopard Cat
"The foundation cat of the Bengal breed"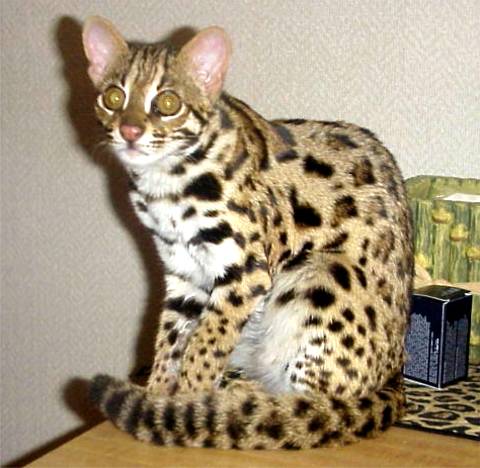 Maximus of Bamboo (ALC)

We imported Maximus from Europe in 2001 and he is an unrelated new line to North America and the Bengal breed. He is not a Bengal, he is a pure Asian Leopard Cat and has reached about 10 pounds grown and has an amazing rosetted golden clear coat, and wonderful white belly. He is bottle raised and is IPEBA and TICA Registered. Max uses a litter box faithfully. We believe the selection of the Leopard Cats qualities are as important as the Bengals bred to them. Max brings in stuning rosettes to the Bengal breed. Just take a look at his Bengal daughters Bamboo Mercedes, Bamboo Lexus, Bamboo Alexis, Bamboo Niobi , and many more.

Sorry, Maximus will not be offered for stud to cats outside of Bamboo Cattery and Bamboo does NOT sell Leopard Cats.

Maximus receives his first bottle in US after a long plane ride from Europe.
(10 weeks)


Rosettes are opening up at 10 weeks


The other side (10 weeks)


Still loves that bottle at 10 weeks


Max with Foster Mother :)
(12 weeks)


Maximus Likes the TIBBA shirts
(12 weeks)


Friend Shirley Craig of Majestic Bengals
gives Max his baba.


Maximus at 5 months still sweet and litterbox trained and has run of the house.


Sydney Welsh of Stonehenge Bengals giving
Max his baba at 5 months of age.


Kaye Westbrook also enjoying feeding
a baba to 5 month old Max.

| | |
| --- | --- |
| HOME | STUDS |
All documents, photographs and graphics are Copyright © 1998-2004