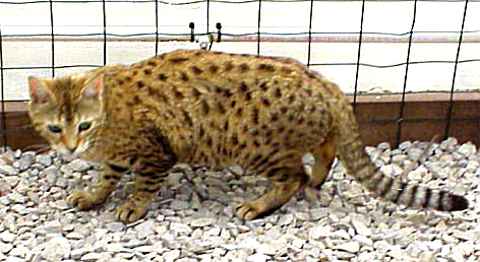 Trendar Ambrosia of Bamboo F2
Sire: Cajuntown's Bentley of Trendar Dam: Trendar F1 Amurred
DOB 10/1/98
Ambrosia is a beautiful F2 leopard spotted Bengal and has a very clear soft peltted coat with large black arrowhead rosetted spots. She is of excellent type with small rounded oceli ears set well, great head.
Ambrosia is a very out-going affectionate cat and will make an awesome pet. She is so bonding and will take time to adjust to her new owners. She is jealous of other cats and needs to go to a home without other cats.

Has already been spayed
price is $400.00 reduced to $200.00 to LOVING home.

All documents, photographs and graphics are Copyright © 2006