Sire: ZaRu of Bamboo (LC) Dam: Lexica of Bamboo (SBT)

Annie is a very special large female Bengal cat. As with ALL F1s raised here at Bamboo Cattery, she was bottle raised, well trained and very well socialized. She has a very clear soft golden pelt, whited belly, and beautiful arrow head paw print rosetted spots. Her photo's do not do her justice.

Being bottle raised and hand raised in the house, she is a very sweet, affectionate and outgoing girl and will jump up in your lap, nuzzle your neck, give you kisses and head butts. Annie will make a wonderful house pet, but is an alpha queen and would do best in a home without another alpha queen and will take a little time to adjust to her new surroundings. We are retiring Annie simply because after several attemps at breeding her, she just has never had any kittenss, so she has been spayed and is ready for her new home.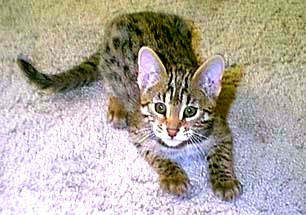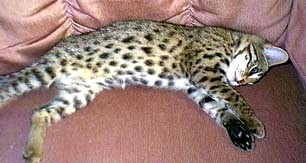 Annie's kitten photos
Our F1 pet kittens usually sell for $2,000.00-$3,000.00
Special price to a good indoor home only is

Reduced to $500.00 to loving home.
add $225 shipping expenses if needed.

Documents, photographs and graphics are Copyright © 2006