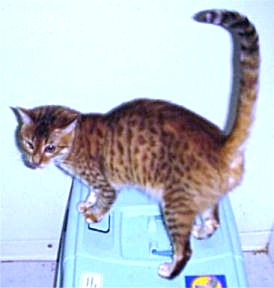 Uniquely Apricot of Bamboo F3
Sire: QGC RW Uniquely Gambling Man Dam: Uniquely Just A Peach of Bamboo F2
DOB 3/23/98
Apricot is a brown spotted tabby. She is very typie with a long head, wide brow, lots of nose leather, well placed small ears, deep bronze gorgeous eyes like a Leopard Cat, large whisker pads and long body. She has a beautiful rosetted pattern.
Apricot is a well behaved, friendly girl, gets along well with other cats that get along with her, if not she lets them pick on her. She will take a little time to adjust to new surroundings.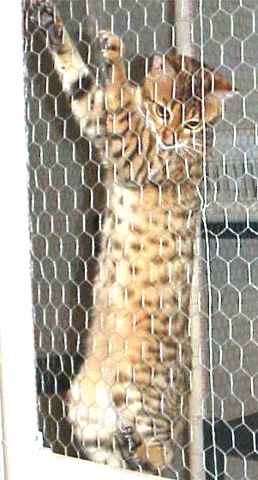 Apricot showing off her whitted belly
Price including spay is $200 plus shipping if necessary.

All documents, photographs and graphics are Copyright © 2006