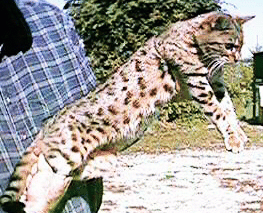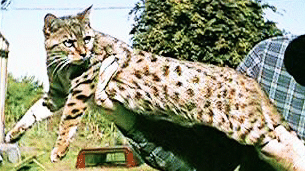 Bamboo Golden Charm SBT
Date of Birth 10/20/97
Sire: The Juice of Bamboo, Dam: Glamourcats Rose Medallion of Bamboo

Charm is a brown spotted tabby with loads of glitter, has a rosetted pelted coat, lighted belly, small ears, thick tail, outstanding contrast with a light golden background, and super loving disposition. She has produced some of our best kittens like DCH Bamboo Precious Pearl, DCH Bamboo Carmela Swirl, DCH Bamboo Nikko of Majestic, and IW RW SGC Bamboo Eden.

Charm is a very sweet cat and is available to a loving home as a pet. Her price including spay is only $100.00 plus $225 shipping expenses if needed.

All documents, photographs and graphics are Copyright © 1998-2006