Sire: Taro of Bundas (ALC) Dam: Bundas Golden (SBT Bengal)

Cookie is a Brown Spotted Tabby, with a very clear soft pelt, whited belly, and very black spots. She was our first F1 and was our prototype for what we wanted to reproduce in an SBT (fourth generation or more Bengal to Bengal). Even though she was raised in the house, she was NOT very will socialized. It took a year and a half of loving patience before she would let us pet her and another year before she would jump up in Marie's lap and nuzzle her. She is now retired to a special pet home and had produced very typie F2 kittens (some with glitter) like Bamboo Bonsai and Bamboo Jasmine of Fantasycats, that we bottled raised and WELL socialized and made loving affectionate F2 Bengals and the boys made WONDERFUL PETS.

When we got Cookie, we were under the impression that she was as socialized as an F1 COULD be, but we could not understand how her kittens could be so much more outgoing and affectionate, if that was true. Today after several years of raising our own F1s using our unique socializing techniques we know that she was NO where near as socialized as she should have been. But I will say that most other F1s at that time which were being produced by others were NOT as nice as she.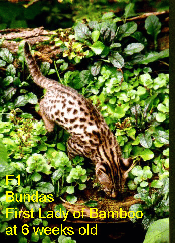 Pedigree for Bundas First Lady of Bamboo 58.83% (A1T 081294 051)
+--- Asian Leopard Cat 100%(NON-REG)
|
+--- Taro of Bundas (100%)(OOT 090691 025)
| |
| +--- Asian Leopard Cat 100%(NON-REG)
|
|
Bundas First Lady of Bamboo 58.83%(A1T 081294 051)
/
| +--- Millwood Prediction 18.75%(COT 041387 002)
| +--- Millwood Chandra Singh 18.75%(SBT 061488 026)
| | +--- Millwood Wildfire 18.75%(03T 040186 011)
| +--- Junglesong Amedeus 19.54%(SBT 060289 014)
| | +--- Millwood Rave Review 21.88%(O3T063087002)
| | +--- Millwood Sundra Mani 20.32%(O3T 062188 008)
| | +--- Millwood Kodachrome 18.75%(O3T 040186 013)
| +--- Bundas Canadjun Nugget 16.02%(COT 052491010)
| | | +--- Millwood Silk N Cinders 18.75%(O3T041086018)
| | | +--- Millwood Rajun Cajun 18.75%(COT041587012)
| | | | +--- Millwood Leopardetta 18.75%(B3T 031586 004)
| | +--- Gogees Canadjun Cajun 12.5%(BOT 072389 014)
| | | +--- Millwood Destiny 12.5%(A2T 122783 006)
| | +--- Millwood Cajun Queen 6.25%(A3T022887010)
| | +--- Millwood Peanut Butter 0%(SBT 020484 007)
+--- Bundas Golden 17.66%(SBT O52492.036)
| +--- Millwood Prediction 18.75%(COT 041387 002)
| +--- Millwood Chandra Singh 18.75%(SBT 061488 026)
| | +--- Millwood Wildfire 18.75%(03T 040186 011)
| +--- Junglesong Amedeus 19.54%(SBT 060289 014)
| | | +--- Millwood Rave Review 21.88%(O3T063087002)
| | +--- Millwood Sundra Mani 20.32%(O3T 062188 008)
| | +--- Millwood Kodachrome 18.75%(O3T 040186 013)
+--- Bundas Demon 19.29%(SBT 030291 034)
| +--- Millwood Cedar Chips 25%(B2T04018610)
| +--- Millwood Sabu of Bradot 21.88%(C3T031488005)
| | +--- Millwood Morse Code 18.75%(B3T031586006)
+--- Bradot Cabbage Town Clown 19.04%(SBT 010490 002)
| +--- Millwood Rave Review 21.88%(O3T063087002)
+--- Millwood Richi of Bradot 17.19%(COT 080888 004)
+--- Millwood Shimmer of Desertrose 12.50%(B3T 071487 007)

HOME QUEENS
All documents, photographs and graphics are Copyright © 1998-99-2000