Pictured is a Bamboo Domestic Bengal kitten
"The look of the wild in a Domestic Cat"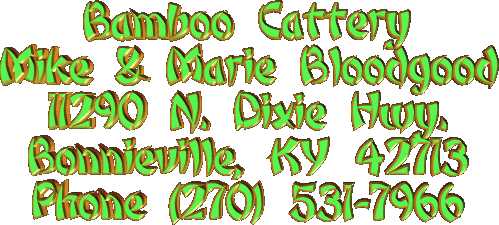 Home of
2000

Inter-American & Regional

BEST SEAL MINK MARBLED TABBY (Snow)
Triple Grand Champion King Cobra of Bamboo
(past away on 2/5/2001)

---

BEST BROWN SPOTTED TABBY
2nd BEST BENGAL ADULT
Quadruple Champion Bamboo Marvelous


from Europe!!!
Asian Leopard Cat "Maximus of Bamboo"
(New Leopard Cat line with large rosettes)
Hand raised !!!!
Check out Maximus as he grows Click Here
Flash! Maximus produces his first Bengal kittens!


Bamboo Cattery (about us)

History of the Domestic Bengal Cat

Types, Colors, and Patterns of Bengals

The Offical Bengal Breed Standard

Kittens & Cats Available!

What is a Leopard Cat?

Bamboo's Leopard Cats

Bamboo's Bengal Studs

Bamboo's Early Generation Bengal Queens

Bamboo's Later Generation Bengal Queens

Bamboo's Melanistic Bengals

Bamboo's African Servals






This site is a member of WebRing. To browse visit here.

"Breeding for Excellence"

"We strongly recommend that all Bengal breeders, pet owners and enthusiast join
The International Bengal Breeders' Association (TIBBA). TIBBA recognizes, promotes, and protects all generations of Bengals. We feel the future of the Bengal breed as a whole depends on them."

"We also strongly recommend that all Savannah breeders, pet owners, and enthusiast join
The International Savannah Breeders' Association (TISBA). TISBA is the first Savannah Association and recognizes, promotes, and protects all generations of the Savannah Cat. We feel the future of the Savannah breed as a whole depends on them."




is registered with


INTERNATIONAL PROGRESSIVE CAT BREEDERS' ALLIANCE
Founding Member

Proud members of






Lifetime Founding Member






TISBA
Founding Members










All documents, photographs and graphics are Copyright © 1996-2003