Pictured is a 7th generation Bengal (Bamboo Marvelous) at 3 weeks.
"The look of the wild Leopard in a Domestic Cat"
Bamboo Cattery
Mike & Marie Bloodgood
11290 North Dixie Hwy.
Bonnieville, Kentucky 42713
Phone (270) 531-7966
Email bamboobengals@altavista.net

Home of
2000

Inter-American & Regional

BEST SEAL MINK MARBLED TABBY (Snow)
Triple Grand Champion King Cobra of Bamboo
(past away on 2/5/2001)
---

BEST BROWN SPOTTED TABBY
2nd BEST BENGAL ADULT
Quadruple Champion Bamboo Marvelous


from Europe!!!
Asian Leopard Cat "Maximus of Bamboo"
(New Leopard Cat line with large rosettes)
Hand raised !!!!


Bamboo Cattery

History of the Domestic Bengal Cat

Types, Colors, and Patterns of Bengals

Bamboo's Asian and Amur Leopard Cats

Bamboo's Bengal Studs

Bamboo's Early Generation Queens

Bamboo's Later Generation Queens

Bamboo's Melanistic Bengals

Bamboo's Kittens & Cats Available

Bamboo's African Serval page

Gallery of Awesome

"Breeding for Excellence"
Proud members of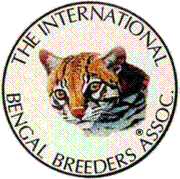 TIBBA
Lifetime Founding Members

INTERNATIONAL PROGRESSIVE CAT
BREEDERS' ALLIANCE

American Cat Fanciers Association
Kentuckiana Cat Club ACFA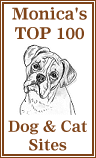 Since Jan. 1, 1999
All documents, photographs and graphics are Copyright © 1998-2001