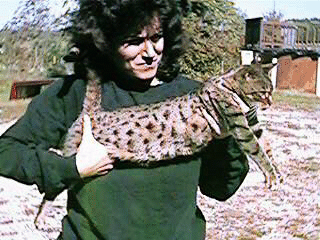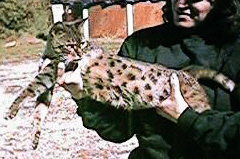 Catshack Lexica of Bamboo SBT
Sire: Nefertelli Firestone of Gogees,
Dam: Glamourcats Rose Medallion of Bamboo
Lexie is one of our main queens. She is a brown spotted tabby, double pelted very clear coat, rosettes with lots of acreage and glitter, lighted belly, and super sweet loving disposition. She is reproducing like her mother, super typie, sweet, cutting edge kittens. She is the mother of our DCh Bamboo Mischievous , QCh Bamboo Marvelous (Leading Regional & Inter-American Best Bengal Kitten and Best BST Adult Bengal), Bamboo Kimba, Bamboo Shanghai, Bamboo Tutankamen, Bamboo Faji and several other beautiful Bengals.
Pedigree for Catshack's Lexica of Bamboo 16.81% (SBT 052896 023)

+--- Millwood Destiny 12.5%(A2T 122783 006)
+--- Millwood Aries 18.75%(B2T 051886 010)
| +--- Millwood Praline 25%(A1T 080582 017)
+--- Millwood Rave Review 21.88%(O3T063087002)
| | +--- Millwood Destiny 12.5%(A2T 122783 006)
| +--- Millwood Treasure Chest 25%(B2T 040186 013)
| +--- Millwood Pennybank 25%(A1T080582016)
+--- Millwood Showbiz 23.44%(C3T080688012)
| | +--- Millwood Tory of Dehli 0%(O2T 060182 012)
| | +--- Millwood Destiny 12.5%(A2T 122783 006)
| | | +--- Millwood Praline 25%(A1T 080582 017)
| +--- Millwood Sun Dapple 25%(B2T051886014)
| | +--- Millwood Finally Found 0%(NON-REG)
| +--- Millwood Praline 25%(A1T 080582 017)
| +--- Millwood Roarscheck 50%(NON-REG)
+--- Nefertelli Firestone of Gogees 17.19%(COT 012790 003)
| | +---
| | +--- Millwood Tory of Dehli 0%(O2T 060182 012)
| | | +---
| | +--- Millwood Trademark 12.5%(AOT052784015)
| | | | +--- Millwood Finally Found 0%(NON-REG)
| | | +--- Millwood Praline 25%(A1T 080582 017)
| | | +--- Millwood Roarscheck 50%(NON-REG)
| +--- Bengaline Athena 9.38%(B2T051388007)
| | +--- Millwood Tory of Dehli 0%(O2T 060182 012)
| | +--- Millwood Destiny 12.5%(A2T 122783 006)
| | +--- Millwood Praline 25%(A1T 080582 017)
| +--- Millwood Sheba of Bengaline 6.25%(A3T 022887 005)
| | +--- Millwood Ramses Cheops 0%(846-101401)
| +--- Millwood Peanut Butter 0%(SBT 020484 007)
| +--- Millwood Tasha 0%(73314-3)
Catshack's Lexica of Bamboo 16.81%(SBT 052896 023)
| +--- Millwood Prophecy 18.75%(B3T031586003)
| +--- Gogees Warhawk 12.5%(BOT030788007)
| | +--- Millwood Cajun Queen 6.25%(A3T022887010)
| +--- Oakview Cheech of Gogees 10.94%(BOT 030590 007)
| | +--- Millwood Rajun Cajun 18.75%(COT041587012)
| | +--- Gogees Whistlin Dixie 9.38%(AOT 102588 003)
| | +--- Wild Cajun Jamalaya 0%(SBT 081287 022)
| +--- I've Been Spotted 15.66%(COT091191014)
| | | +--- Millwood Aries 18.75%(B2T 051886 010)
| | | +--- Millwood Rave Review 21.88%(O3T063087002)
| | | | +--- Millwood Treasure Chest 25%(B2T 040186 013)
| | +--- Glamourcats Bet Za Be 20.37%(SBT080290009)
| | | +--- Millwood Patend Pending 18.75%(B2T 050987 001)
| | +--- Snowbear Chinese Checker 19.53%(C3T 062089 014)
| | +--- Millwood Painted Lady 20.32%(COT061988011)
+--- Glamourcats Rose Medallion of Bamboo 16.43%(SBT 102592 004)
| +--- Millwood Destiny 12.5%(A2T 122783 006)
| +--- Millwood Aries 18.75%(B2T 051886 010)
| | +--- Millwood Praline 25%(A1T 080582 017)
| +--- Millwood Rave Review 21.88%(O3T063087002)
| | | +--- Millwood Destiny 12.5%(A2T 122783 006)
| | +--- Millwood Treasure Chest 25%(B2T 040186 013)
| | +--- Millwood Pennybank 25%(A1T080582016)
+--- Millwood Golden Sheena 17.19%(SBT 092889 001)
| +--- Millwood Destiny 12.5%(A2T 122783 006)
| +--- Millwood Aries 18.75%(B2T 051886 010)
| | +--- Millwood Praline 25%(A1T 080582 017)
+--- Millwood Cheetah 12.5%(B3T 061887 011)
| +--- Millwood Trademark 12.5%(AOT052784015)
+--- Millwood Spotland Yard 6.25%(A3T 081586 010)
+--- CH Millwood Bon Bon 0%(SBT 022885 002)


HOME QUEENS
All documents, photographs and graphics are Copyright © 1998-99