Pure Bred Asian Leopard Cat
"The foundation cat of the Bengal breed"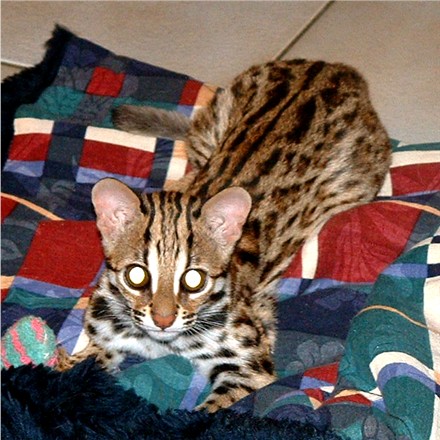 Queen MaiTai of Bamboo (ALC)

MaiTai is an ALC female imported from Europe in 2002. Wonderful paw print rosettes forming a horizontal chaining pattern much like an Ocelot, on a clear light golden background with beautiful white marking and underparts. She has been bottled raised and is a sweet girl. She is IPEBA Registered. MaiTai uses a litter box faithfully and is non-agressive in anyway. She was raised in our home with our Bengal kittens as her buddies. We believe the selection of the Leopard Cats qualities are as important as the Bengals bred to them. She is unrelated to all our other Leopard Cats, but is the same subspecies (chinensis) as our ALC Maximus, Titan, and Jade. We are planning to breeding her to Maximus, Titan, and our Bengal studs in the future.
| | |
| --- | --- |
| MaiTai | MaiTai |
| MaiTai | MaiTai |
| Maitai | MaiTai |
Photos copyrighted © and
may not be copied, reproduced or reprinted without written authorization.

| | |
| --- | --- |
| HOME | ALCs |
All documents, photographs and graphics are Copyright © 2002-2004