Year 2000
ACFA INTER-AMERICAN
and Mid-West Region
BEST BENGAL KITTEN
BEST BROWN SPOTTED TABBY
2nd BEST BENGAL ADULT
ACFA Quadruple Champion
Bamboo Marvelous

Marvelous at her first show as a kitten, with TICA Judge Judy Chappetta "What an awesome pattern, just like a Leopard Cat".
Judy gave Marvelous Best Bengal Kitten with
25 Bengal kittens entered.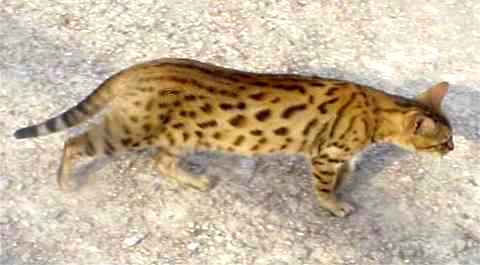 June 2001
IAW RW QCh Bamboo Marvelous
Sire: IAW RW TGRC Ch King Cobra of Bamboo
Dam: Lexica of Bamboo

Marvel is a 7th generation brown spotted tabby with an unbelievable clear golden double pelted coat and outstanding contrast. She has loads of glitter, small rounded oceli ears, set to the sides, pear shaped head, with large whisker pads, broad brow, no tabby M, white face markings and belly . She is the kind of Bengal that we strive for. We knew the day she was born, she was something special. She is also a very sweet, loving girl.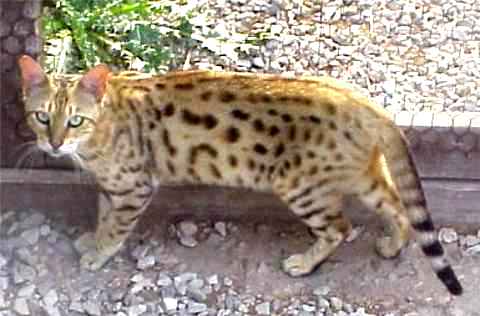 Pedigree for IAW RW QCh Bamboo Marvelous 15.62%(SBT 032099 007)
+--- Gogees Hurricane Force of Vashti 10.16%(COT 082290 013)
+--- QGRC Nola Lamborghini of JoyKatz 10.55%(SBT072791007)
| +--- Gogees Kimba Lee of Nola 10.94%(COT091290005)
+--- Joycatz Rolls Royce of Forestrun 10.75%(SBT 111192 015)
| | +--- Gogees Roar O Raja of Belltown 9.38%(BOT032789022)
| +--- Wildwood Whata Mercedes of Joykatz 10.94%(COT 012191 007)
| +--- Gogees Nite Spot 12.5%(BOT 020389 007)
+--- RW SGRC Forestrun Molicing of Uniquely / Bamboo 13.00%(SBT 082794 008)
| | +--- Gogees Simba of Catoninetails 12.5%(BOT 030788 010)
| | +--- Catoninetail Wild Thing 9.38%(BOT 092790 016)
| | | +--- Catoninetail Neato 6.25%(AOT 010889 008)
| +--- Windstorm Dazzle 15.24%(COT 080191 029)
| | +--- Millwood Haji Baba 18.75%(O3T 0512889 012B)
| +--- Windstorm Glitter Gem Kimba 21.10%(SBT 100889 004)
| +--- Teamen Sabu of Windstorm 23.44%(C3T 050488 002)
+--- IAW RW TGRC CH King Cobra of Bamboo 14.43%(SBT 040598 033)
| | +--- Flyingwfarms Willie Wild 18.75%(SBT 041891 013)
| | +--- Nola Magic Marker of Kingsmark 14.65%(SBT 022194 019)
| | | +--- Nola Flash Dancer 10.55%(SBT 072791 022)
| | +--- Acme Jubilee of Bountiful 14.90%(SBT 021596 019)
| | | | +--- Eldorado Martin Sheen of Starbengal 12.12%(COT 031193 014)
| | | +--- Starbengal Katy 15.15%(NO-RECORD)
| | | +--- Starbengal Zhenat Vakil of Alipbay 18.17%(SBT 100892 017)
| +--- Bountiful Kiska 15.86%(SBT 021897 008)
| | +--- Millwood Rave Review 21.88%(O3T063087002)
| | +--- QGRC Bengalrun Bogart of Starbengal 18.76%(SBT 120290 007)
| | +--- Lionsmountain Balaika of Bengalrun 15.63%(C3T 031489 004)
| +--- Madame Butterfly 16.81%(SBT 031394 017)
| | +--- Echowood Cheetah 17.19%(COT 102990 014)
| +--- Cheetahtu Rosewood Tiramisu 14.85%(SBT 092292 022)
| +--- Nefertelli Clouded Leopard 12.5%(COT 030591 002)
IAW RW QCh Bamboo Marvelous 15.62%(SBT 032099 007)
| +--- Millwood Aries 18.75%(B2T 051886 010)
| +--- Millwood Rave Review 21.88%(O3T063087002)
| | +--- Millwood Treasure Chest 25%(B2T 040186 013)
| +--- Millwood Showbiz 23.44%(C3T080688012)
| | +--- Millwood Destiny 12.5%(A2T 122783 006)
| | +--- Millwood Sun Dapple 25%(B2T051886014)
| | +--- Millwood Praline 25%(A1T 080582 017)
| +--- Nefertelli Firestone of Gogees 17.19%(COT 012790 003)
| | | +--- Millwood Tory of Dehli 0%(O2T 060182 012)
| | | +--- Millwood Trademark 12.5%(AOT052784015)
| | | | +--- Millwood Praline 25%(A1T 080582 017)
| | +--- Bengaline Athena 9.38%(B2T051388007)
| | | +--- Millwood Destiny 12.5%(A2T 122783 006)
| | +--- Millwood Sheba of Bengaline 6.25%(A3T 022887 005)
| | +--- Millwood Peanut Butter 0%(SBT 020484 007)
+--- Catshack's Lexica of Bamboo 16.81%(SBT 052896 023)
| +--- Gogees Warhawk 12.5%(BOT030788007)
| +--- Oakview Cheech of Gogees 10.94%(BOT 030590 007)
| | +--- Gogees Whistlin Dixie 9.38%(AOT 102588 003)
| +--- I've Been Spotted 15.66%(COT091191014)
| | | +--- Millwood Rave Review 21.88%(O3T063087002)
| | +--- Glamourcats Bet Za Be 20.37%(SBT080290009)
| | +--- Snowbear Chinese Checker 19.53%(C3T 062089 014)
+--- Glamourcats Rose Medallion of Bamboo 16.43%(SBT 102592 004)
| +--- Millwood Aries 18.75%(B2T 051886 010)
| +--- Millwood Rave Review 21.88%(O3T063087002)
| | +--- Millwood Treasure Chest 25%(B2T 040186 013)
+--- Millwood Golden Sheena 17.19%(SBT 092889 001)
| +--- Millwood Aries 18.75%(B2T 051886 010)
+--- Millwood Cheetah 12.5%(B3T 061887 011)
+--- Millwood Spotland Yard 6.25%(A3T 081586 010)

| | |
| --- | --- |
| HOME | QUEENS |
All documents, photographs and graphics are Copyright © 1998-99-2000