Pure Bred Leopard Cat
Prionailurus bengalensis euptilurus
"A foundation cat of the domestic Bengal breed"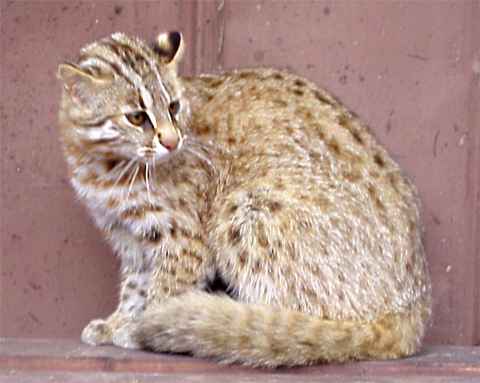 Natasha of Bamboo
Natasha was newly imported in 2004. She is an amazing rosetted cat with a very clear coat, very very thick tail and wonderful white belly. She is a large cat. We believe the selection of the Leopard Cats qualities are as important as the Bengals we breed to them.
She is IPEBA and TICA registered. The euptilurus subspecies of Leopard Cats are prized for producing Bengals of larger size, with thicker tails, great patterns (no bars), rosettes, dense soft coat, and exceptional out going personalities. We believe Natasha's decendants are from the southern part of the euptilurus range and is why she has a shorter coat then many of the other euptilurus's known as Amur. Like ZaRu and Nikolai, Natasha's coat is Silver tipped, eleminating the black ticking other euptilurus's Leopard Cats are known to have and produce in their offspring.
We are planning to breed Natasha to Zaru for some pure Prionailurus bengalensis euptilurus cubs to be added to our breeding program.

Please Note: Bamboo does NOT sell Leopard Cats.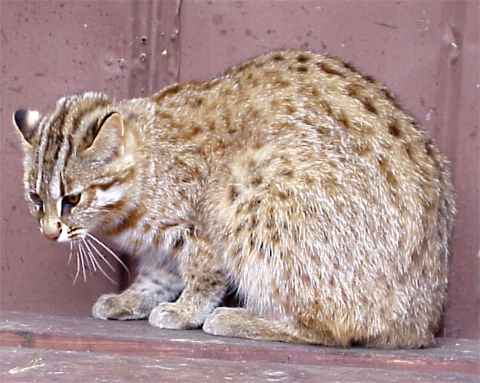 Natasha of Bamboo (Leopard Cat)
FLASH!
Natasha and ZaRu give birth to four beautiful LC cubs!
| | |
| --- | --- |
| Leopard Cat cubs at 2 weeks | Leopard Cat cubs at 2 weeks |
| Leopard Cat cubs at 4 weeks | Leopard Cat cubs at 4 weeks |
| Leopard Cat cubs at 8 weeks | Leopard Cat cub at 8 weeks |
| Leopard Cat cub as 8 weeks | Leopard Cat cub at 8 weeks |




| | |
| --- | --- |
| HOME | STUDS |
All documents, photographs and graphics are Copyright ©2004