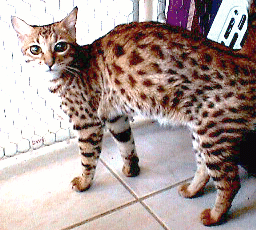 Uniquely Just A Peach of Bamboo F2
Sire: Ch. Forestrun Bankonit of Uniquely Dam: Spotoluck Nutmegnspice F1
Peachy is a brown spotted tabby with a beautiful pelted clear golden coat. She has loads of arrowhead rosettes, "WHITED BELLY", large golden-bronze eyes, thick medium tail and small rounded oceli ears. She looks more like an F1 than an F2 with her wild looking small head and many have mistaken her for an ALC. Her grandsire is the rare late Wild Huntsman of Spotoluck (ALC). Peachy adds another new ALC line to Bamboo and she has now raised four beautiful litters of kittens, most with glitter and Whited Bellies like Bamboo King Turok and Bamboo Chain Reaction. We need to thank Ruth and Harry of Uniquely again for this beautiful female and for their great friendship.
Pedigree for Uniquely Just A Peach of Bamboo 37.60% (B3T 020997 010)

+--- Millwood Rajun Cajun 18.75%(COT041587012)
+--- SGRC Gogees Intrepid of Movados 15.63%(SBT070790005)
| +--- Gogees Jungle Aura 12.5%(COT071189023)
+--- Movados Rock N Roll of Forestrun 16.41%(SBT012092016)
| | +--- Millwood Showbiz 23.44%(C3T080688012)
| +--- Nefertelli Firebrand of Movados 17.19%(C3T012790005)
| +--- Bengaline Athena 9.38%(B2T051388007)
+--- CH Forestrun Amzirak Arcong of Forestrun 19.54%(SBT 070493 014)
| | +--- Millwood Cedar Chips 25%(B2T04018610)
| | +--- Millwood Sabu of Bradot 21.88%(C3T031488005)
| | | +--- Millwood Morse Code 18.75%(B3T031586006)
| +--- Bradot Sheba 22.66%(SBT062990020)
| | +--- Millwood Rave Review 21.88%(O3T063087002)
| +--- Millwood Indira of Bradot 23.44%(C3T080688001)
| +--- Millwood Sun Dapple 25%(B2T051886014)
+--- CH Forestrun Bankonit of Uniquely 15.23%(SBT 082794 008)
| | +--- Millwood Prophecy 18.75%(B3T031586003)
| | +--- Gogees Warhawk 12.5%(BOT030788007)
| | | +--- Millwood Cajun Queen 6.25%(A3T022887010)
| | +--- Gogees Roar O Raja of Belltown 9.38%(BOT032789022)
| | | | +--- Millwood Trademark 12.5%(AOT052784015)
| | | +--- Millwood Bitta Cookie of Gogees 6.25%(A3T081586008)
| | | +--- CH Millwood Bon Bon 0%(SBT 022885 002)
| +--- Movados Kenya 10.94%(COT091290005)
| | +--- Millwood Silk N Cinders 18.75%(O3T041086018)
| | +--- Millwood Rajun Cajun 18.75%(COT041587012)
| | +--- Millwood Leopardetta 18.75%(B3T 031586 004)
| +--- Gogees Kimba of Nola 12.5%(BOT072389015)
| | +--- Millwood Destiny 12.5%(A2T 122783 006)
| +--- Millwood Cajun Queen 6.25%(A3T022887010)
| +--- Millwood Peanut Butter 0%(SBT 020484 007)
Uniquely Just A Peach of Bamboo 37.60%(B3T 020997 010)
|
| +--- Asian Leopard Cat 100%(NON-REG)
| |
| +--- Wild Huntsman of Spotoluck 100%(O1T 032293 019)
| | |
| | +--- Asian Leopard Cat 100%(NON-REG)
| |
+--- Spotoluck Nutmegnspice of Uniquely 59.96%(A2T 111194 011)
| +--- Millwood Tory of Dehli 0%(O2T 060182 012)
| +--- Millwood Destiny 12.5%(A2T 122783 006)
| | +--- Millwood Praline 25%(A1T 080582 017)
| +--- Millwood Kings Ransom 18.75%(BOT051388018)
| | | +--- Millwood Destiny 12.5%(A2T 122783 006)
| | +--- Millwood Torchbearer 25%(B2T 040186 012)
| | +--- Millwood Pennybank 25%(A1T080582016)
+--- Snowbear Rasha of Spoto Luck 19.53%(COT042290004)
| +--- Millwood Spot Check 25%(B2T 051886 002)
| +--- Millwood Art Nouveau 18.75%(B3T 060187 026)
| | +--- Millwood Rosetta Stone 12.5%(A2T 052784 014)
+--- Millwood Painted Lady 20.32%(COT061988011)
| +--- Millwood Silk N Cinders 18.75%(O3T041086018)
+--- Millwood Painted Desert 21.88%(C3T 082987 001)
+--- Millwood Torchbearer 25%(B2T 040186 012)


HOME QUEENS
All documents, photographs and graphics are Copyright © 1998-99