TICA Regional Winner
Double Grand Champion
Aspengold's Rampage


Sire: Albright Fleur de Caprio of Aspengold
Dam: Millwood Takara of Aspengold


Grandson of DGCh. Di Caprio and Ch. Millwood French Lace .

Rampage comes to use on lone from our dear friend Judy Miers of Aspengold Bengals. We want to thank Judy for the opportunity to add this beautiful, rosetted, golden male, to our breeding program. With his awesome whited tummy and wonderful coat bathed in glitter. He has a "metallic, apricot, golden glow in his pelt and especially on his head and very small, well-placed ears. His body is strong, muscular, and sleek. Rampage walks slowly with noticeably high scapular bones that make him look like a leopard on the prowl. His puffy whisker pads accompany a very nice profile. He has already proven to produce exceptional whited belly, large rosetted, clear coated kittens.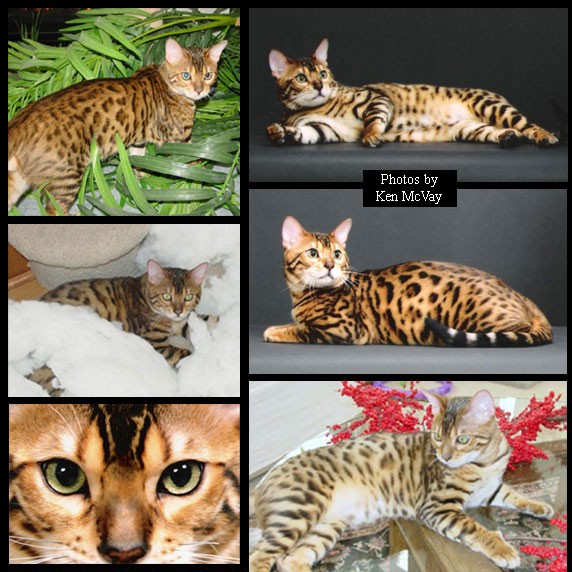 All photo's, courtesy of Judy Miers of Aspengold Bengals and are protected
by Copyright ©

| | |
| --- | --- |
| HOME | STUDS |
All documents, photographs and graphics are Copyright © 2005