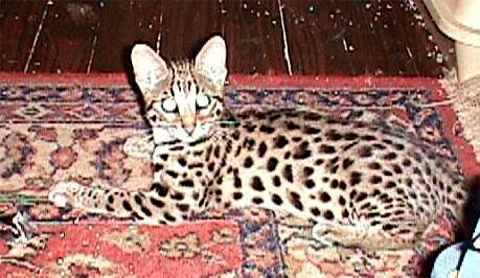 Bundas Shameless of Bamboo F1
Sire: Taro of Bundas (ALC) Dam: Bundas Black Eyed Suzie (SBT Bengal)
Shameless is a Brown Spotted Tabby, with a very clear soft pelt, whited belly, and very black spots with awesome rosetting. She was our Third F1 and another prototype for what we want to reproduce in an SBT (fourth generation or more Bengal to Bengal). She has very typie F2 kittens (some with glitter) like Uniquely Audacious of Bamboo (F2).


When we got Shameless, we were under the impression that she was also socialized as an F1 COULD be. unfortunatly, after 2 years of loving care, Shameless is completely unhandleable.

After several years of raising over Fifty of our own F1s using our unique socializing techniques of bottle raising and lots of loving care we know that she was NOT socialized the way she should have been. Her bottled raised F2 kitten are as loving and outgoing as any domestic cat and we are sure she could have been the same it she was produced at Bamboo.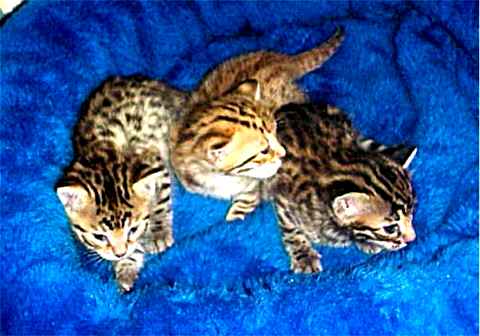 Cubs out of Shameless and QGC RW Uniquely Joint Venture
Uniquely Audacious of Bamboo in center.

HOME QUEENS
All documents, photographs and graphics are Copyright © 1998-2004