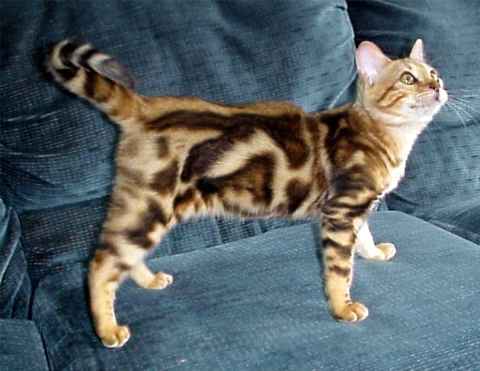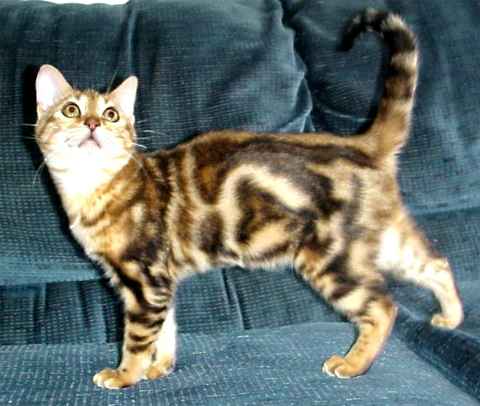 Triple Champion Bamboo Spice Girl
Sire: IAW RW TGC King Cobra of Bamboo Dam: Catshacks Bad Bonnie of Bamboo

Spice is a tri-colored brown marbled tabby. She is glittered, double pelted, with rosetted outlined chained markings. Very clear coated with beautiful hart shaped pattern, outlined markings around a rich cinnamon colored centers. She has small very rounded ears, large wisker pads, and WHITED TUMMY. We are expecting her to do exceptionally well at the shows. Spice is also a very sweet and affectionate girl. Pictures taken at 4 months old.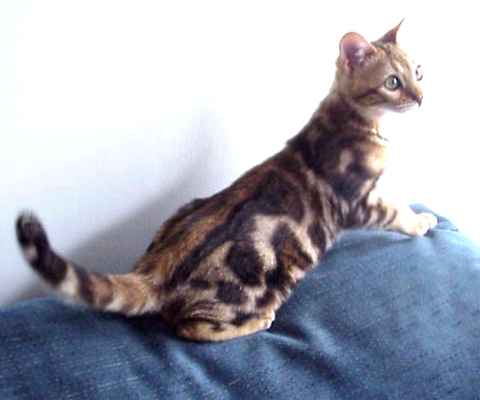 Pedigree for TCH Bamboo Spice Girl 16.95 % (SBT 100299)
+--- Gogees Hurricane Force of Vashti 10.16%(COT 082290 013)
+--- QGRC Nola Lamborghini of JoyKatz 10.55%(SBT072791007)
| +--- Gogees Kimba Lee of Nola 10.94%(COT091290005)
+--- Joycatz Rolls Royce of Forestrun 10.75%(SBT 111192 015)
| | +--- Gogees Roar O Raja of Belltown 9.38%(BOT032789022)
| +--- Wildwood Whata Mercedes of Joykatz 10.94%(COT 012191 007)
| +--- Gogees Nite Spot 12.5%(BOT 020389 007)
+--- RW SGRC Forestrun Molicing of Uniquely/Bamboo 13.00%(SBT 082794 008)
| | +--- Gogees Simba of Catoninetails 12.5%(BOT 030788 010)
| | +--- Catoninetail Wild Thing 9.38%(BOT 092790 016)
| | | +--- Catoninetail Neato 6.25%(AOT 010889 008)
| +--- Windstorm Dazzle 15.24%(COT 080191 029)
| | +--- Millwood Haji Baba 18.75%(O3T 0512889 012B)
| +--- Windstorm Glitter Gem Kimba 21.10%(SBT 100889 004)
| +--- Teamen Sabu of Windstorm 23.44%(C3T 050488 002)
+--- TGRC CH King Cobra of Bamboo 14.43%(SBT 040598 033)
| | +--- Flyingwfarms Willie Wild 18.75%(SBT 041891 013)
| | +--- Nola Magic Marker of Kingsmark 14.65%(SBT 022194 019)
| | | +--- Nola Flash Dancer 10.55%(SBT 072791 022)
| | +--- Acme Jubilee of Bountiful 14.90%(SBT 021596 019)
| | | | +--- Eldorado Martin Sheen of Starbengal 12.12%(COT 031193 014)
| | | +--- Starbengal Katy 15.15%(NO-RECORD)
| | | +--- Starbengal Zhenat Vakil of Alipbay 18.17%(SBT 100892 017)
| +--- Bountiful Kiska 15.86%(SBT 021897 008)
| | +--- Millwood Rave Review 21.88%(O3T063087002)
| | +--- QGRC Bengalrun Bogart of Starbengal 18.76%(SBT 120290 007)
| | +--- Lionsmountain Balaika of Bengalrun 15.63%(C3T 031489 004)
| +--- Madame Butterfly 16.81%(SBT 031394 017)
| | +--- Echowood Cheetah 17.19%(COT 102990 014)
| +--- Cheetahtu Rosewood Tiramisu 14.85%(SBT 092292 022)
| +--- Nefertelli Clouded Leopard 12.5%(COT 030591 002)
TCH Bamboo Spice Girl 16.95 %(SBT 100299)
| +--- SGRC Huntersmoon Talismen 24.61%(SBT050791005)
| +--- Belltown Goldrush of Mayapple 17.78%(SBT080892014)
| | +--- Belltown Apache Tear 10.94%(COT040691020)
| +--- Mayapple Sonic Boom 20.03%(SBT082193013)
| | +--- Millwood Showbiz 23.44%(C3T080688012)
| | +--- Millwood Singular Sensation 22.27%(SBT 081290 006)
| | +--- Snowbear Cloud Nine of Millwood 19.53%(C3T 062089 006)
| +--- Hisumi Sasuke of Uniquely 19.25%(SBT 091695013)
| | | +--- Movados Gizmo 20.53%(SBT 102490 009)
| | | +--- CH Desertrose Malachis Joab 18.08%(SBT 071692 023)
| | | | +--- Lionsmountain Bali Rose 15.63%(C3T 031489 017)
| | +--- Cheetaden's Snow Princess 18.47%(SBT080794009)
| | | +--- Belltown Flashback 17.78%(SBT080892015)
| | +--- Millwood Miss Purr of Cheetahden 18.66%(SBT 071093 014)
| | +--- Snowbear Cloud Nine of Millwood 19.53%(C3T 062089 006)
+--- Catshack's Bad Bonnie of Bamboo 19.46%(SBT 081596 018)
| +--- Movados Gizmo 20.53%(SBT 102490 009)
| +--- CH Entelechy Bonzer 19.84%(SBT 010492009)
| | +--- Movados Lulu 19.15%(SBT 031591 010)
| +--- Entelechy Sluggo 19.5%(SBT050793034)
| | | +--- Millwood Masterpiece 21.88%(C3T 101689 016)
| | +--- Movados Lulu 19.15%(SBT 031591 010)
| | +--- Rockettes Bronze Edition of Movados 16.41%(COT 091189 009)
+--- Entelechy Georgia Girl 19.67%(SBT122694016)
| +--- Movados Gizmo 20.53%(SBT 102490 009)
| +--- CH Entelechy Bonzer 19.84%(SBT 010492009)
| | +--- Movados Lulu 19.15%(SBT 031591 010)
+--- Entelechy Kaitlin 19.84%(SBT122092021)
| +--- Movados Gizmo 20.53%(SBT 102490 009)
+--- Chloe of Windstorm 19.84%(SBT010492011)
+--- Movados Lulu 19.15%(SBT 031591 010)

| | |
| --- | --- |
| HOME | QUEENS |