Pantherette


Foundation STUDS & QUEENS


Uniquely J. B. Jake Of Bamboo SBT
Sire: RW QGC Uniquely Gambling Man
Dam: Forestrun Seneca of Uniquely SBT
Jake is a very large boned, very muscular, strong Melanistic Bengal. Just look at his chest and neck. He has a spotted under coat, beautiful black sheen, nice small rounded ears, and fabulous sweet, loving personality. He puts all these wonderful traits in his cubs. Jake is one of the corner stones of the New Pantherette Breed. Thanks to Patty Bingham of Spot-O-Luck Cattery for this awesome male.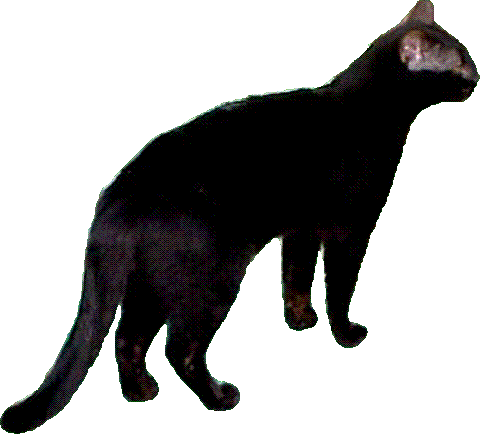 Koallattee Darkside of Bamboo SBT
Sire: Stubbie of Koallattee SBT
Dam: Black Jewell SBT
Darkside is a beautiful young Melanistic Bengal, He has a spotted undercoat, beautiful sheen, lush coat, long body with thick low carried tail. Beautiful gold round eyes, small rounded ears, nice straight profile with a wide bridge, and large whisker pads and chin. He is of outstanding type and is a very muscular cat, with a sweet disposition. He will also is a main part of the Pantherette program. Thanks to Jamie Christian of Kingsransom Cattery for this outstanding male.


Flavorcats Mica of Bamboo F-2
Sire: Catoninetails Whispering Pines Max
Dam: Millwood Kubla Kent of Flavorcats (F1)
Mica is a F2 and was our first Melanistic Bengal. When you hold her up in the sun, her under coat shows very large doughnut rosettes. Her Grand sire is Baghara Khan of Kent ALC from Dr. Kent's Program. Mica is a very typie F2, more like an F1 in conformation. She has very small rounded ears, super wild face, large whisker pads and chin, extra thick tail, and a sweet disposition. She produces very typie kittens with very large rosetted undercoats. Thanks to Ruth Todice of Uniquely Cattery for this great female.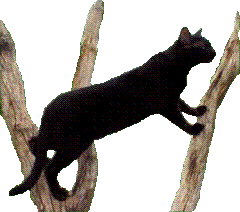 Provenmountain Ebony of Bamboo
Sire: QGC Forestrun Hocus Pocus of Bamboo
Dam: Neigechatte Princess Jasmine SBT
Ebony is a Beautiful long bodied Melanistic Bengal. She has nice black sheen, marbled undercoat, small rounded ears, soft pelted coat, large whisker pads and chin, oval green eyes, wild head and body, and very sweet temperament. We are expecting some really nice cubs out of her and our males.

Picture Pending
Provenmountain Raven of Bamboo
Sire:Aluren Ambush SBT
Dam: Bamboo Mystique SBT
Raven is a Melanistic Bengal and a sweetheart with a soft pelted black coat, large whisker pads and chin, rounded gold eyes, spotted undercoat, and long body. When she walks, she looks like a little black panther. We are excited to add her to our Pantherette breeding program in 2001.

Coming soon, a full sister to Provenmountain Raven of Bamboo



All documents, photographs and graphics are Copyright © 2000