Cobra past away on 2/5/2001 of a blocked urethra,
from a PH imbalance in his cat food. Many
other cats accross the nation died for the same food.
It was not genetically caused, we had three unrelated
cats get it at the same time, only one survived.
This page is done in his loving memory.
Below is his legacy.

Year 2000
ACFA INTER-AMERICAN
and Mid-West Region
BEST BENGAL
BEST SEAL MINK TABBY
BEST MARBLED TABBY

ACFA Triple Grand Champion
in only 5 Shows, defeting 140 plus Grand Champions or better Allbreeds

TICA Champion
and 1 final from TICA Grand Champion in only 2 shows

IPCBA
Supreme Grand Champion
International
Best Bengal

TICA International
3rd BEST
Seal Mink Marble Tabby
in only 2 shows

29 Bengals entered
TICA Bengal Congress
Best Seal Mink Tabby Bengal
8th place over all 29 Bengals

King Cobra of Bamboo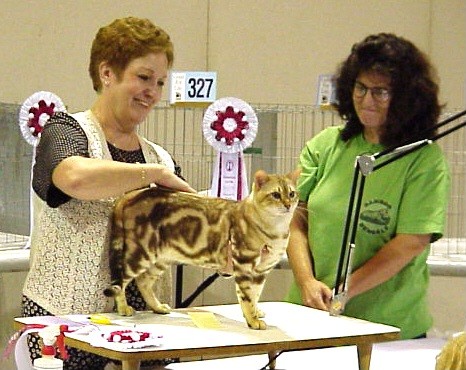 Best of Best Cat at ACFA Kentuckiana CAT Show
(198 entries)
Awarded by ACFA Judge Jody Rugenstien
First Bengal ever to get a Best of the Best in ACFA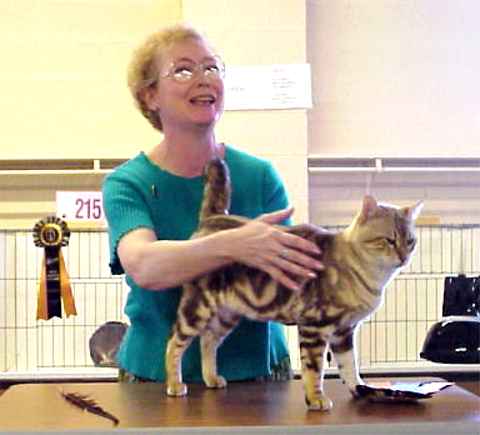 Cobra receives
3 BEST CAT (1st)
Allbreed Finals from
ACFA President Carol Barbee.
"Cobra was the best Bengal I've ever seen and Bamboo Bengals are
great representatives for the breed"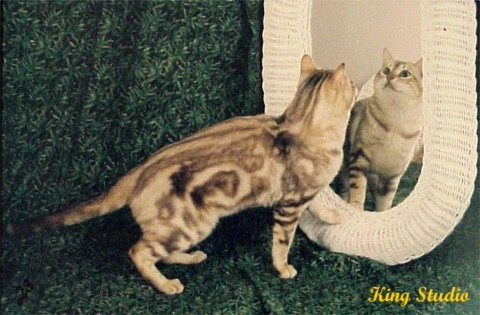 Sire: SGC Forestrun Molicing of Bamboo,
Dam: Bountiful Kiska
Cobra was a large four-color seal mink (Snow) marble, with unbelievable contrast, outlined pattern and clear coat. He was double pelted, heavy glittered, long bodied, had small rounded oceli ears, blue-aqua eyes, thick tail, and true WHITED TUMMY. He had it all, including breeding and super temperment. We didn't think it was possible to get a tri-color snow, never mind four colors, but there he was and if you count his whited belly, he had five. The best part is, he was one of the most lovable, lay back cats we have ever owned.
Cobra was a proven reproducer in his first and only breeding year, producing very wild type and beautiful clear coats with outstanding contrast, and whited bellies like.
Inter-American Best Bengal Kitten and
Best Brown Spotted Tabby Adult Bengal
Quad Champion Bamboo Marvelous,
Triple Champion Bamboo Spice Girl,
Double Champion Bamboo Precious Pearl,
Quad Champion Bamboo Carmela Swirl,
Double Champion Bamboo Nikko of Majestic,
and Champion Bamboo King Tutankhamen
Needless to say we were very happy with what he produced his first year. Thanks again Ruth and Harry Todice of Uniquely and Steve Nicholson (Breeder) for making Cobra available to us. Cobra will be missed by all that knew him.
Pedigree for IAW RW SGRC King Cobra of Bamboo (SBT 040598 033)
+--- Gogees Roar O Raja of Belltown 9.38%(BOT032789022)
+--- Gogees Hurricane Force of Vashti 10.16%(COT 082290 013)
| +--- Gogees Etouffee 10.94%(BOT 101189 001)
+--- QGRC Nola Lamborghini of JoyKatz 10.55%(SBT072791007)
| | +--- Gogees Roar O Raja of Belltown 9.38%(BOT032789022)
| +--- Gogees Kimba Lee of Nola 10.94%(COT091290005)
| +--- Gogees Kimba of Nola 12.5%(BOT072389015)
+--- Joycatz Rolls Royce of Forestrun 10.75%(SBT 111192 015)
| | +--- Gogees Warhawk 12.5%(BOT030788007)
| | +--- Gogees Roar O Raja of Belltown 9.38%(BOT032789022)
| | | +--- Millwood Bitta Cookie of Gogees 6.25%(A3T081586008)
| +--- Wildwood Whata Mercedes of Joykatz 10.94%(COT 012191 007)
| | +--- Millwood Rajun Cajun 18.75%(COT041587012)
| +--- Gogees Nite Spot 12.5%(BOT 020389 007)
| +--- Millwood Cajun Queen 6.25%(A3T022887010)
+--- RW SGRC Forestrun Molicing of Bamboo (SBT 082794 008)
| | +--- Millwood Prophecy 18.75%(B3T031586003)
| | +--- Gogees Simba of Catoninetails 12.5%(BOT 030788 010)
| | | +--- Millwood Cajun Queen 6.25%(A3T022887010)
| | +--- Catoninetail Wild Thing 9.38%(BOT 092790 016)
| | | | +--- Gogees Simba of Catoninetails 12.5%(BOT 030788 010)
| | | +--- Catoninetail Neato 6.25%(AOT 010889 008)
| | | +--- Ociville Cinjan of Catoninetail 0%(0203-378938)
| +--- Windstorm Dazzle 15.24%(COT 080191 029)
| | +--- Millwood Destiny 12.5%(A2T 122783 006)
| | +--- Millwood Haji Baba 18.75%(O3T 0512889 012B)
| | +--- Millwood Torchbearer 25%(B2T 040186 012)
| +--- Windstorm Glitter Gem Kimba 21.10%(SBT 100889 004)
| | +--- Millwood Buster of Teamen 21.88%(C3T 063087 002)
| +--- Teamen Sabu of Windstorm 23.44%(C3T 050488 002)
| +--- Millwood Hot Chili of Teasmens 25%(B2T051886 003)
IAW RW SGRC King Cobra of Bamboo (SBT 040598 033)
| +--- Millwood Rajun Cajun 18.75%(COT041587012)
| +--- Flyingwfarms Willie Wild 18.75%(SBT 041891 013)
| | +--- Kendar Star of India 18.75%(COT 031190 014)
| +--- Nola Magic Marker of Kingsmark 14.65%(SBT 022194 019)
| | +--- Gogees Hurricane Force of Vashti 10.16%(COT 082290 013)
| | +--- Nola Flash Dancer 10.55%(SBT 072791 022)
| | +--- Kimba Lee of Nola 10.94%(COT 091290 005)
| +--- Acme Jubilee of Bountiful 14.90%(SBT 021596 019)
| | | +--- Gogees Montezuma 14.85%(COT 060791 020)
| | | +--- Eldorado Martin Sheen of Starbengal 12.12%(COT 031193 014)
| | | | +--- Lionsmountain Babette 9.38%(BOT 052190 020)
| | +--- Starbengal Katy 15.15%(NO-RECORD)
| | | +--- Echowood Cheetah 17.19%(COT 102990 014)
| | +--- Starbengal Zhenat Vakil of Alipbay 18.17%(SBT 100892 017)
| | +--- Rockettes Marlene of Starbengal 19.15%(SBT 070391 013)
+--- Bountiful Kiska 15.86%(SBT 021897 008)
| +--- Millwood Aries 18.75%(B2T 051886 010)
| +--- Millwood Rave Review 21.88%(O3T063087002)
| | +--- Millwood Treasure Chest 25%(B2T 040186 013)
| +--- QGRC Bengalrun Bogart of Starbengal 18.76%(SBT 120290 007)
| | | +--- Millwood Aries 18.75%(B2T 051886 010)
| | +--- Lionsmountain Balaika of Bengalrun 15.63%(C3T 031489 004)
| | +--- Millwood Aurora 12.5%(B3T 041086 026)
+--- Madame Butterfly 16.81%(SBT 031394 017)
| +--- Millwood Bamboo of Echowood 18.75%(COT 041587 016)
| +--- Echowood Cheetah 17.19%(COT 102990 014)
| | +--- Echowood Maggie 15.63%(BOT 010590 008)
+--- Cheetahtu Rosewood Tiramisu 14.85%(SBT 092292 022)
| +--- Nola Kotton Pickin of Gogees 12.5%(BOT 030990 015)
+--- Nefertelli Clouded Leopard 12.5%(COT 030591 002)
+--- Gogees Jungle Aura 12.5%(COT071189023)





Cobra aka Cinnamon Roll




| | |
| --- | --- |
| HOME | STUDS |
All documents, photographs and graphics are Copyright © 1998-2001